Influenza (flu) is a contagious respiratory illness caused by influenza viruses. It can cause mild to severe illness. Serious outcomes of flu infection can result in hospitalization or death. Some people, such as older people, young children, and people with certain health conditions, are at high risk of serious flu complications.
Where can I get the flu vaccine?
Districts with the Georgia Department of Public Health will offer the flu vaccine in health departments, off-site clinics and special school-based flu clinics in the Fall 2018. The flu vaccine will be offered by shot or mist this flu season. The CDC recommends everyone 6 months and older receive a flu vaccine each year.
South Health District (Ben Hill, Berrien, Brooks, Cook, Echols, Irwin, Lanier, Lowndes, Tift and Turner Counties)
Southeast Health District (Appling, Atkinson, Bacon, Brantley, Bulloch, Candler, Charlton, Clinch, Coffee, Evans, Jeff Davis, Pierce, Tattnall,  Toombs, Ware and Wayne Counties)
Southwest Health District (Baker, Calhoun, Colquitt, Decatur, Dougherty, Early, Grady, Lee, Miller, Mitchell, Seminole, Terrell, Thomas and Worth Counties)
Flu Prevention Tips
The CDC recommends a yearly flu vaccine as the best prevention measure against getting the flu.
Take everyday preventive actions such as avoiding close contact with sick people, staying home if ill, covering your mouth and nose with a tissue if coughing or sneezing, clean/disinfect surfaces that could be contaminated with germs, and wash your hands often.
If your healthcare provider prescribes antiviral medications when you have the flu, be sure to take the antibiotics as prescribed. This can shorten the time you are sick and make your illness milder.
Flu Signs & Symptoms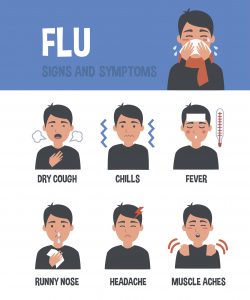 Cold versus Flu
For more information about the flu, visit www.cdc.gov/flu. For more information on where to get your flu vaccine this Fall, call your local health department or District Office.