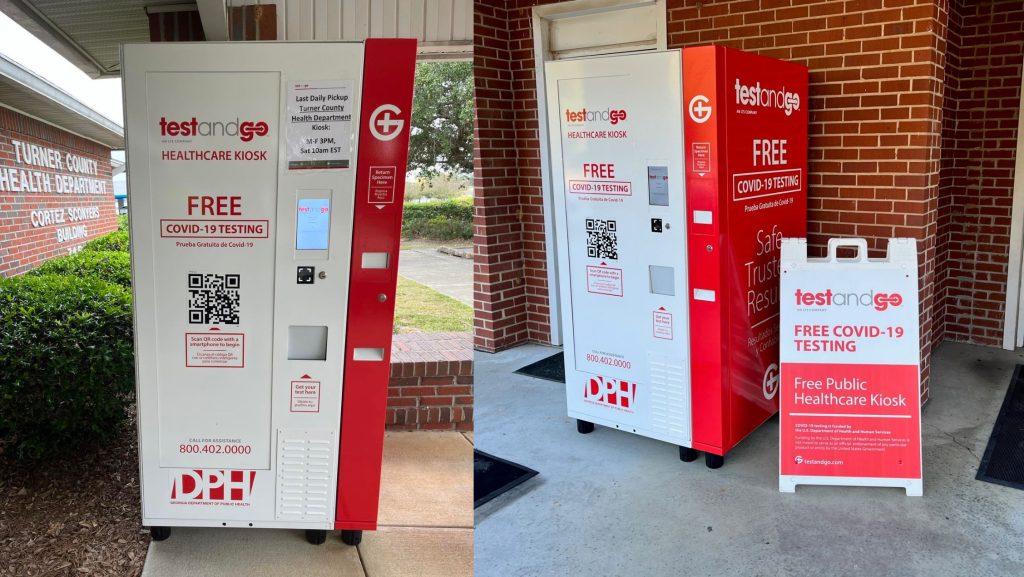 VALDOSTA – South Health District is now offering COVID and influenza PCR testing through kiosks at the Tift and Turner County Health Departments. These kiosks offer access to testing 24 hours a day, 7 days a week.
After completing a brief registration form, the kiosks dispense two test kits – one kit is for COVID testing and the other is for influenza (types A and B). The test kits include a nasal swab and instructions on collecting the specimens. Nasal swabs must be done for each test. Once the specimens are collected, they are safely packaged back into the kits and placed in the kiosk. The specimens are picked up daily and sent to an accredited lab for PCR testing.
The lab is then responsible for notifying individuals of their test results by email or text. Results are usually provided from the lab within 48 hours of specimen collection. DPH does not have access to an individual's test results prior to them being reported.
If an individual receives a positive test result, they should contact their primary care physician for follow-up care. Follow-up care is not currently available within the health departments.
Pre-registration for self-administered testing at the kiosks is not required but is available at https://register.testandgo.com/.
Additionally, there is no out-of-pocket cost for the tests provided through a DPH kiosk; but for individuals with insurance, their insurance will be billed.
"We are excited to offer our communities 24/7, no-cost access to these testing kiosks," District Health Director Dr. Mark J. Eanes said. "Our goal is to meet our community's healthcare needs in the most accessible way possible and these kiosks support that mission."
While the initial launch of these testing kiosks only includes two counties within the district, additional kiosks could be placed in other counties in the future.
COVID and influenza testing are among the many prevention measures that protect you and others by reducing the chances of spreading illness. Vaccination and good respiratory hygiene also help prevent the spread of respiratory illnesses like COVID and flu:
Frequent and thorough handwashing with soap and warm water.
Cough or sneeze into the crook of your elbow or arm to help prevent spread of germs.
Avoid touching your face as germs can get into the body through mucus membranes.
Stay home from work or school if you're sick.
In addition to offering COVID and influenza self-testing through the kiosks, administered/in-person COVID testing is also available at the Lowndes County Health Department. LTS Lab Testing Sites is on site at the Lowndes County Health Department every Tuesday, Wednesday and Thursday 9:00AM-3:00PM. To register for in-person testing, visit https://register.tigertest.com/. In-person testing is no longer available at Tift County Health Department.
Tift County Health Department is located at 305 12th St E, Tifton, and can be reached by phone at 229-386-8373.
Turner County Health Department is located at 745 Hudson Ave, Ashburn, and can be reached by phone at 229-238-9595.
Lowndes County Health Department is located at 206 S Patterson St., Valdosta, and can be reached by phone at 229-333-5257.
For more information about COVID and influenza visit https://dph.georgia.gov/covid-19 or https://dph.georgia.gov/flu.