Georgians Urged to Wear Face Coverings to Fight COVID-19
Posted: July 21, 2020 by Kristin Patten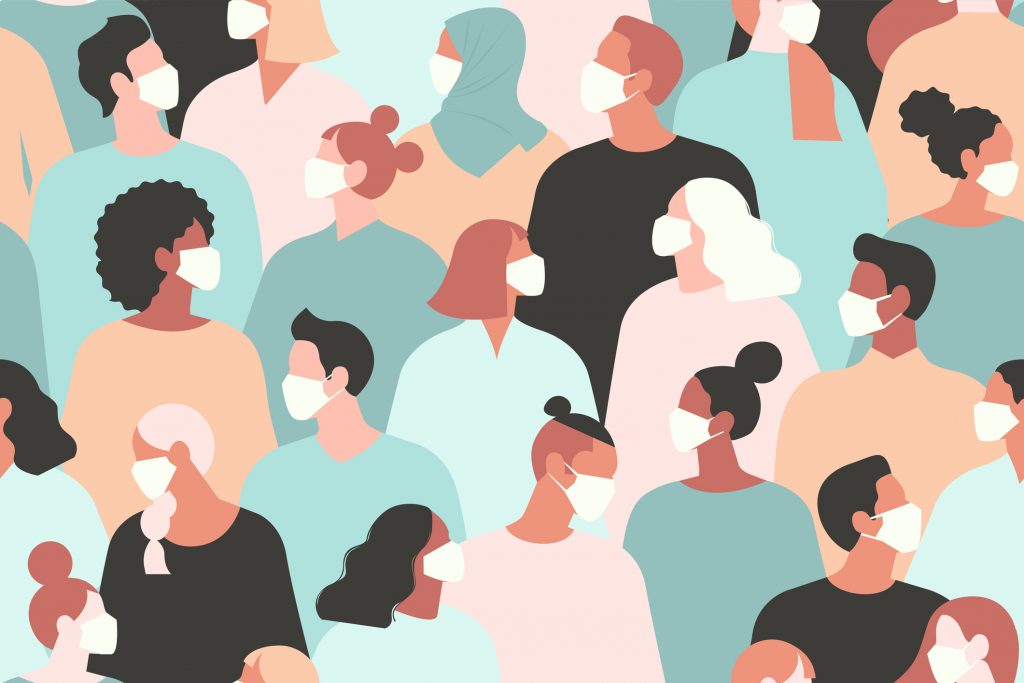 VALDOSTA – The Georgia Department of Public Health's South Health District wants to continue to urge all Georgians to continue taking precautions to help slow the spread of COVID-19 in our communities.
In addition to practicing social distancing and washing your hands frequently, wearing a face covering in public settings is an easy step we can all take to help slow the spread.
The Centers for Disease Control and Prevention explain that, "Cloth face coverings may help prevent people who have COVID-19 from spreading the virus to others. Wearing a cloth face covering will help protect people around you, including those at higher risk of severe illness from COVID-19 and workers who frequently come into close contact with other people (e.g., in stores and restaurants)."
Cloth face coverings are recommended as a simple barrier to help prevent respiratory droplets from traveling into the air and onto other people when the person wearing the cloth face covering coughs, sneezes, talks, or raises their voice. This is called source control.
For masks to effectively slow the spread, they must be widely used, meaning used by a substantial portion of the population. "Cloth face coverings are most likely to reduce the spread of COVID-19 when they are widely used by people in public settings," the CDC's website explains.
A cloth face covering should be worn whenever people are in a community setting where social distancing may be difficult such as in the grocery store or picking up food at a restaurant. Using masks in these settings are especially important as we experience widespread community transmission in our region.
Cloth face coverings help slow the spread of the virus and help people who may be infected and not know it from transmitting it to others. The CDC has easy to follow instructions on how to make a low-cost cloth face covering.
Cloth face coverings should allow for breathing without restriction, cover the nose and mouth and be laundered and machine dried after use.
Cloth face coverings should not be placed on children under the age of 2, or anyone who has trouble breathing, or is unconscious or otherwise unable to remove the mask without assistance.
The CDC also recognizes that there are instances when it is not feasible for a person to wear a mask or when doing so could pose a safety concern. For instance, a face covering should not be used if the risk of heat-related illness is increased, meaning they should not necessarily be worn outside if you are able to practice social distancing. Masks are also not recommended for people who are engaging in high intensity activities such as running, or in instances where they could get wet, such as at the beach or pool.
Other instances that may not be suitable for face coverings include people who are deaf or hard of hearing or those who care for those who are hearing impaired and also people with intellectual and developmental disabilities or health conditions that cause sensory sensitives.
It is important to remember that if you are unable to wear a face covering you should make sure to adapt in other ways to prevent spread including practicing social distancing by staying at least 6 feet from other people.
Wearing a face mask does not take the place of social distancing, and social distancing is still highly encouraged. Make sure to stay at least 6 feet from other people, not gather in groups, stay out of crowded places and avoid mass gatherings when at all possible.
You should also continue to wash your hands frequently and thoroughly with soap and water or use an alcohol-based hand sanitizer (at least 60% alcohol) when soap and water are not readily available. Practice good health hygiene covering your mouth and nose with a tissue when you cough or sneeze.
For more information on cloth face coverings, how to wash or wear them and how to make your own as well as the results of multiple studies that recognize the correlation of the use of cloth face coverings and decreased COVID-19 spread, visit the CDC's website, www.cdc.gov.
For more information about COVID-19 in our district visit www.southhealthdistrict.com/covid19.