Continuing precautions crucial as cases rise, businesses reopen
Posted: June 16, 2020 by Kristin Patten
Individuals, businesses should take steps to prevent spread of COVID-19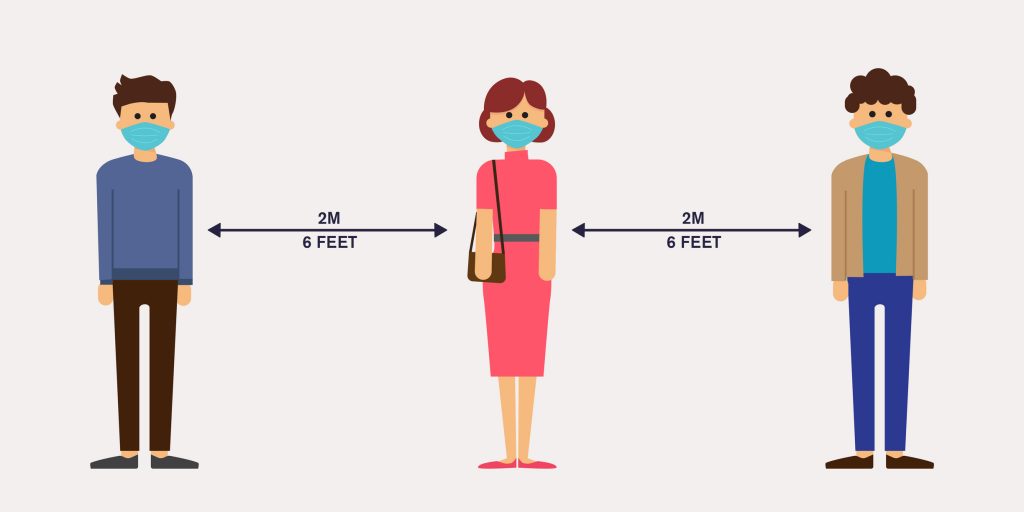 With cases increasing across our region, businesses beginning to reopen, and as we all learn to face this new normal together, South Health District wants to remind everyone of the importance of continuing to take precautions against COVID-19.
There are many steps that businesses and individuals can take to help prevent the spread of COVID-19.
For individuals, whether you are at home or out in public, it is important to remember to:
If you are visiting a public place such as the grocery store, mall or even getting gas, the Centers for Disease Control and Prevention recommends the following precautions:
Stay at least 6 feet away from others while shopping and in lines.
Cover your mouth and nose with a cloth face covering when you have to go out in public.
When you do have to visit in person, go during hours when fewer people will be there (for example, early morning or late night).
If you are at higher risk for severe illness, find out if the store has special hours for people at higher risk. If they do, try to shop during those hours. People at higher risk for severe illness include adults 65 or older and people of any age who have serious underlying medical conditions.
Disinfect the shopping cart, use disinfecting wipes if available.
Do not touch your eyes, nose, or mouth.
If possible, use touchless payment (pay without touching money, a card, or a keypad). If you must handle money, a card, or use a keypad, use hand sanitizer right after paying.
Businesses should also take steps to protect employees' health. The CDC offers the following tips to help businesses as they reopen:
Actively encourage sick employees to stay home. Develop policies that encourage sick employees to stay at home without fear of reprisals, and ensure employees are aware of these policies.
Have conversations with employees about their concerns. Some employees may be at higher risk for severe illness, such as older adults and those with chronic medical conditions.
Develop other flexible policies for scheduling and telework (if feasible) and create leave policies to allow employees to stay home to care for sick family members or care for children if schools and childcare close.
Talk with companies that provide your business with contract or temporary employees about their plans. Discuss the importance of sick employees staying home and encourage them to develop non-punitive "emergency sick leave" policies.
Promote etiquette for coughing and sneezing and handwashing. Provide tissues, no-touch trash cans, soap and water, and hand sanitizer with at least 60% alcohol.
Plan to implement practices to minimize face-to-face contact between employees if social distancing is recommended by your state or local health department. Actively encourage flexible work arrangements such as teleworking or staggered shifts.
Perform routine environmental cleaning. Routinely clean and disinfect all frequently touched surfaces, such as workstations, countertops, handrails, and doorknobs. Discourage sharing of tools and equipment, if feasible.
Consider the need for travel and explore alternatives. Check CDC's Travelers' Health for the latest guidance and recommendations. Consider using teleconferencing and video conferencing for meetings, when possible.
Provide education and training materials in an easy to understand format and in the appropriate language and literacy level for all employees, like fact sheets and posters.
If an employee becomes sick while at work, they should be separated from other employees, customers, and visitors and sent home immediately. Follow CDC guidelines for cleaning and disinfecting areas the sick employee visited.
Free COVID-19 testing is available in all 10 counties across the Georgia Department of Public Health's South Health District. The South Health District includes Ben Hill, Berrien, Brooks, Cook, Echols, Irwin, Lanier, Lowndes, Tift and Turner Counties.
Anyone interested in being tested for COVID-19 can call their local health department or the South Health District COVID-19 Hotline to be screened and to schedule their appointment.
For accurate and reliable information about COVID-19 visit southhealthdistrict.com/covid19, dph.georgia.gov/novelcoronavirus or cdc.gov/coronavirus/2019-ncov/index.html.