National Nutrition Month recognized
Posted: March 06, 2019 by Kristin Patten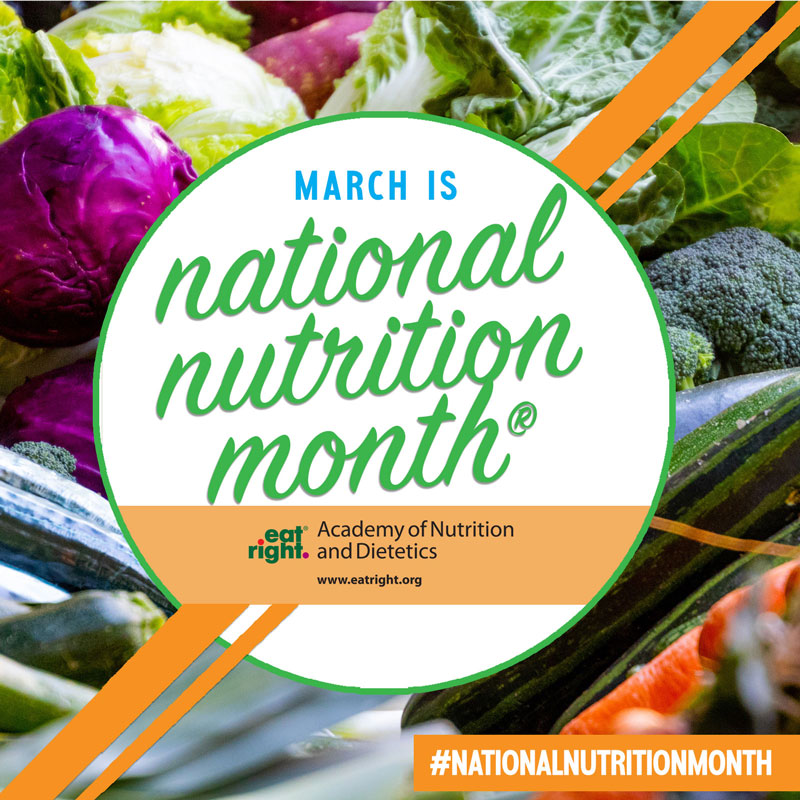 Eating healthy and getting active are two of the most crucial steps a person can take for their personal health.
During March the Academy of Nutrition and Dietetics recognizes National Nutrition Month which encourages people to make informed food choices and develop sound eating and activity habits.
"Making healthy choices is vital all year long," said Holly Rountree, Nutrition Services Director with South Health District. "During March, with the holidays behind us, we just hope to be able to help our community refocus on their health."
The Academy recommends balancing nutritious foods with physical activity most days of the week. According to the U.S. Department of Health and Human Services' physical activity guidelines, adults should participate in at least 150 minutes of moderate-intensity aerobic physical activity per week, including at least two days of muscle-strengthening activities. Being physically active up to 300 minutes per week has even greater health benefits.
"Through the campaign, we share good eating tips such as how to keep nutritious meals simple, the importance of making food safety a part of your everyday routine, the value of preparing meals with foods you have on hand to avoid wasting food, and how to select nutritious food options when dining away from home," says registered dietitian nutritionist Robin Foroutan, a New York-based spokesperson for the Academy.
Initiated in 1973 as National Nutrition Week, National Nutrition Month became a month-long observance in 1980 in response to growing interest in nutrition.
To commemorate the dedication of registered dietitian nutritionists as the leading advocates for advancing the nutritional status of Americans and people around the world, the second Wednesday of March is celebrated as Registered Dietitian Nutritionist Day. This year's Registered Dietitian Nutritionist Day will be celebrated March 13.
As part of National Nutrition Month®, the Academy's website, www.eatright.org, includes articles, recipes, videos and educational resources to spread the message of good nutrition and the importance of an overall healthy lifestyle for people of all ages, genders and backgrounds.
"Taking control of your personal health doesn't have to be complicated. Small steps, like choosing a healthy snack or taking the stairs instead of the elevator, can make a huge difference," Rountree said. "Look at the food choices you make each day and ask yourself if your choices represent each food group; lean protein, vegetables, whole grains and fruits. If your choices don't reflect that then make small goals to improve your eating habits."
###
The Academy of Nutrition and Dietetics is the world's largest organization of food and nutrition professionals. The Academy is committed to improving the nation's health and advancing the profession of dietetics through research, education and advocacy. Visit the Academy at eatright.org.