By Eric Jens, DPH Risk Communicator
Historic floods are striking Louisiana, hurricane activity is developing in the Atlantic and Gulf Coast areas, and Zika virus is a growing concern in virtually every community in America. Whether they are watching the news or looking out the front door, Georgians don't have to go far to see the potential for rapidly forming disasters. Which is what makes September, National Preparedness Month, all the more significant this year.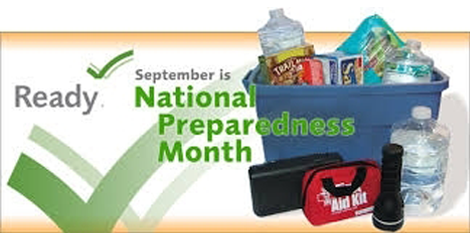 "Good disaster preparedness starts at the individual level," said Betsy Kagey, Ph.D., DPH academic and special projects liaison for the Office of Emergency Preparedness and Response. "When the individual is prepared, they become more resilient to the impacts of a disaster. When a community is prepared, the entire community becomes more resilient."
A common perception is that individuals can react to disasters when the moment arrives. Certainly that reaction is important, but steps taken before that moment can play a big part in the effectiveness of the action, according to officials with the Georgia Emergency Management and Homeland Security Agency (GEMSHA).
"Many people don't believe that a disaster will happen to them or they may overestimate how prepared they are," said Thomas Moore, deputy director of emergency management at GEMSHA. "GEMHSA, through the Ready Georgia campaign, works to overcome those obstacles by helping individuals and families develop a customized plan and build a Ready kit. You can go to www.ready.ga.gov to create a personal profile."
There are many online resources that can be customized to meet the specific needs of anyone creating their own preparedness plan. Georgia's disaster mental health website at www.georgiadisaster.info contains a wealth of information on disaster preparedness, including planning resources that their providers can use to develop disaster plans.
"Apathy is the greatest challenge when it comes to being prepared for disasters," said Jeannette David, disaster mental health services coordinator for the Department of Behavioral Health and Developmental Disabilities (DBHDD).
David says that good preparedness has benefits before, during and after disasters.
"Studies have shown that personal disaster preparedness not only saves lives and money, but that it also promotes a sense of personal control and improves coping in the aftermath of the disaster."
Planning for all potential hazards is smart because some of the same advance planning for severe weather or disease outbreaks can be applied to incidents of man-made threats such as chemical spills or bioterrorism.
Leah Hoffacker, coordinator of the Georgia DPH Strategic National Stockpile program, focuses on providing medications to state residents in the event of a pandemic or bioterrorism.
"In order to increase the success of our response, planning for your family is critical," said Hoffacker. "Knowing where your family will be, how you are going to contact them, and maintaining basic medical information is incredibly important and will assist both public health and medical responders in their ability to aid you and your family. Keeping this information where it is accessible and keeping it updated will improve your family's ability to be resilient during a disaster."
Get started with building your Ready Kit and family preparedness plans today by visiting www.ready.ga.gov.