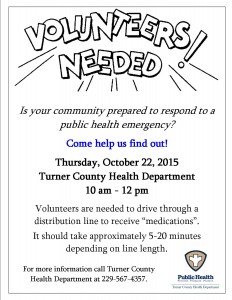 Turner County Health Department will hold a full scale emergency preparedness exercise Thursday, October 22 at their facility in conjunction with numerous community partners. Public health officials are asking for the public's help with the exercise.
"We need to ensure we are prepared to dispense medications if there was ever a public health emergency in our community or nationwide," stated Mary Anne Sturdevan, RN, county nurse manager. "We conduct these exercises throughout our district to test our staff and also educate the community."
Participants are asked to drive through the exercise anytime between 10 am and noon. Depending on the length of the line, it should not take any longer than 20 minutes. For more information call Turner County Health Department at 229-567-4357.