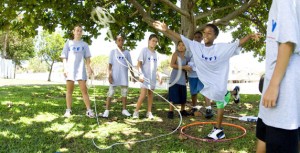 Once known as the state with the second most obese child population in the nation, Georgia now ranks 17th nationally, according to a new report by the Data Resource Center for Child and Adolescent Health. The analysis of data gathered by the Centers for Disease Control and Prevention's National Center for Health Statistics will be formally released on April 16, signaling a significant improvement in the health of Georgia's children.
Funded by the U.S. Department of Health and Human Services, Health Resources and Services Administration, Maternal and Child Health Bureau, the report provides an analysis of physical, emotional and behavioral child health indicators in combination with information on family context and neighborhood environment.
Researchers examining most recent data from 2011 conclude Georgia ranks 17th in the nation for childhood obesity, third in the nation for prevalence of overweight children and 10th nationally when combining both factors -a significant change from 2007 when Georgia ranked second nationally in childhood obesity, 17th in overweight children and third nationally when combining both factors. The report reveals a 5 percent drop in the number of obese children in Georgia.
"I'm encouraged at the numbers," said Brenda Fitzgerald, M.D., commissioner of the Georgia Department of Public Health, who oversees Gov. Nathan Deal's anti-childhood obesity campaign, Georgia SHAPE. "We must stay the course in Georgia to improve the lives of our state's young people."
Georgia SHAPE, the Georgia Student Health and Physical Education Act, passed during the 2009 Georgia legislative session, began with a requirement that each local school district conduct an annual fitness assessment for all students in grades one through 12 enrolled in Georgia public school physical education classes taught by certified physical education teachers (about 1 million children). Georgia SHAPE has grown to become the nation's largest network of partners, government agencies and professional athletic teams committed to improving the health of Georgia's young people by offering assistance and opportunity to achieve a greater level of overall fitness. To address the need, beginning in September 2011, this group of SHAPEsetters identified the challenges:
Poor diet and lack of physical activity contribute to the rise in childhood obesity
Only 52 percent of middle school students and 43 percent of high school students in Georgia currently meet the CDC recommendations for physical activity
More than 44 percent of Georgia's middle school students and 39 percent of high school students watch television for three or more hours on a school day
Only 17 percent of high school students in Georgia consume five or more servings of fruits and vegetables a day
In 2008, Georgians spent $2.4 billion on the direct medical costs of obesity and lost productivity from disease, disability and death
In Georgia, obesity-related hospitalizations of children aged 2-19 years increased 338 percent over the 11-year period from 1999 to 2010
"Georgia SHAPE focuses on teaching healthy habits to our children, lessons that will serve them for a lifetime," said Gov. Nathan Deal. "We're delivering real solutions to the obesity epidemic by promoting nutritious eating and physical activity."
Georgia SHAPE begins with FitnessGram -a tool evaluating five different parts of health-related fitness, including aerobic capacity, muscular strength, muscular endurance, flexibility and body composition using objective criteria. The FitnessGram report is delivered confidentially to families and aggregate results are reported to create a true snapshot and highlight areas for improvement.
"FitnessGram tells us where we are, but this new report reveals how we compare," Fitzgerald said. "Georgia SHAPE, however, tells us that what we're doing to mobilize and unite Georgia efforts is how we'll win this battle to regain the health of all of Georgia's children. They're our future."
Learn more about Georgia SHAPE at: www.georgiashape.org.
Learn more about the Data Resource Center for Child and Adolescent Health at www.childhealthdata.org.