(COVID-19) GEORGIA IS NOW VACCINATING:
Posted: December 22, 2020 by Kristin Patten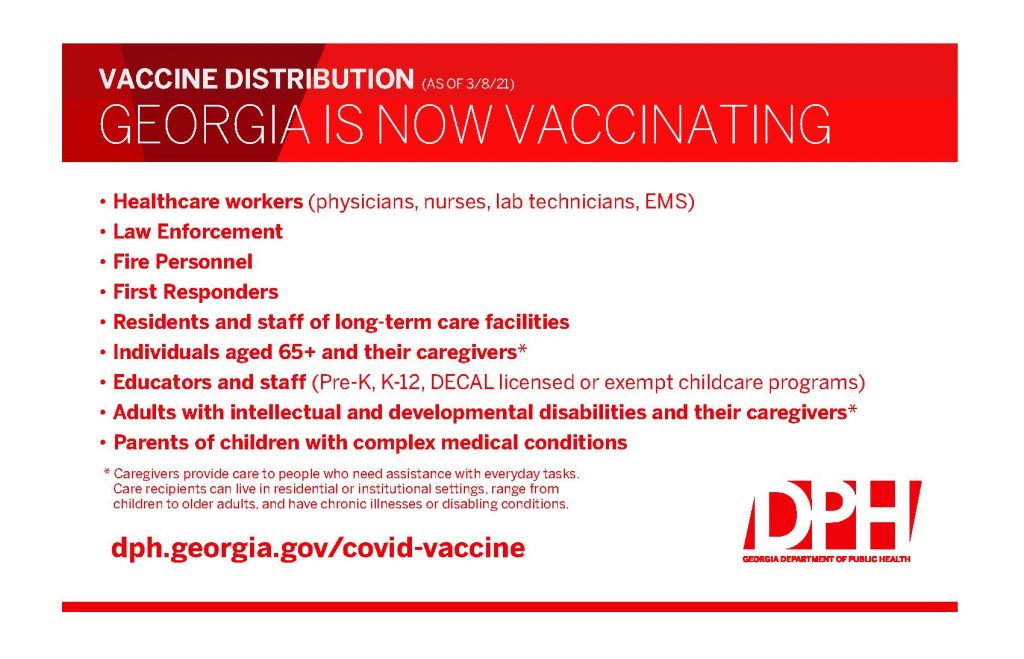 Currently Vaccinating:
Healthcare workers (physicians, nurses, laboratory technicians, EMS personnel, environmental services, etc.)
Residents and staff of long-term care facilities
Adults aged 65+ and their caregivers
Law enforcement, firefighters, first responders
Funeral home workers who come into direct contact with the deceased
Beginning March 8:
Educators and staff (Pre-K, K-12, DECAL licensed or exempt childcare programs)
Adults with intellectual and developmental disabilities and their caregivers
Parents of children with complex medical conditions
---
NOW OPEN: South Health District's COVID-19 hotline is now open. This hotline is for ALL things COVID-19. Individuals who fit the current vaccination tier can call to schedule first dose appointments. You can also call to schedule an appointment for testing or with general questions.
Learn more: https://covid19.southhealthdistrict.com/